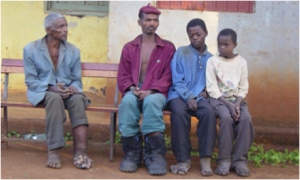 Please join us for a FUNDRAISER on Monday, November 9th 2015 for Footwork: The International Podoconiosis Initiative.
8:30-10:30 am and 5:30-7:30 pm
Meet Wendy Santis, a RCSC member and Executive Director of Footwork, and learn about "podo".
Podoconiosis, "podo", is a form of elephantiasis or swelling of the lower leg triggered by prolonged exposure to certain minerals in red clay volcanic highland soils. The disease is widespread in more than 15 countries in Africa, Asia and Latin America. Podo is both preventable and treatable. Footwork is active in Ethiopia, Uganda and Cameroon.  Blake Mycoskie, founder of TOMS SHOES, is one of Footwork's biggest supporters. 
Refreshments will be served. Donations accepted through Footwork's website, cash or check.
Learn more at www.podo.org
Twitter: @PodoDotOrg
Facebook: www.facebook.com/PodoDotOrg