Member of the Quarter: Anjli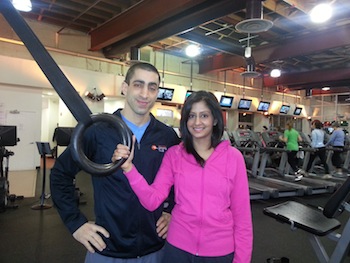 Low energy levels coupled with concerns about being weak and underweight prompted Anjli's husband to convince her to join Rock Creek Sports Club about two years ago. This was only the beginning.
Anjli says she figured if she was going to pay for a gym membership she should try to get the most out of it, so she decided to start by trying some classes. First up — Zumba.
"The first 10-minutes were fun, but after that I started to feel weak and out of breath. It felt intimidating," Anjli said. However, after speaking with Hadji, Rock Crock Sports Club's ambassador, he encouraged her to try it again, because, as he explained, starting off is tough for everyone. So she did.
"Now I'm addicted and I love it," Anjli exclaims!
It didn't stop at Zumba. Anjli says she has found a number of ways to get fit and have fun at Rock Creek Sports Club. This includes participating in Hector's Running Club and several small group training sessions — Craig's Metabolic Training, Julie's Inner Strength, and Rob's Circuit Breaker.
Coupled with a change in diet recommend by her doctor —more protein and veggies, more water, no soda and no junk food — Anjli says she has definitely gotten results. "Before I joined the gym, I used to get tired easily and even had trouble walking up stairs without getting out of breath. Since joining RCSC, I have gained healthy weight, am more toned, and have more energy and strength. I feel I am much more productive during the day and can take on a lot more both at work and at home." she explains.
Another recent major milestone for Anjli was running the Cherry Blossom 10-Miler at a 10 minute pace this past spring. Go Anjli!
Anjli says that a lot of this was possible because of the community at Rock Creek Sports Club. "I've made a ton of friends, which has made it that much more enjoyable to come into the gym," she says. "It's nice and motivating to have buddies to workout with at the gym and socialize with outside of the gym. I've been a member at other gyms, and I've never experienced this type of community."
If you're just starting off, like Anjli was a few years ago, she has this advice: 'Don't make negative assumptions about what you think you can accomplish at your current fitness level. You can always improve, so don't limit yourself from the start."
Tags: Member of the Quarter
Trackback from your site.