Abbi Lichtenstein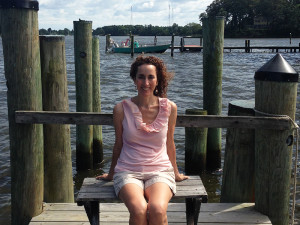 "I live in downtown Silver Spring, MD, and have lived in the Washington, DC area nearly my entire life. I graduated from the University of Maryland with a BS in Textile Science/Fashion Merchandising and later went to University College/University of Maryland and earned a second BS in Paralegal Studies. I worked for a total of 10 years in the Law Department at Marriott Corporation where I met my husband, Michael. I have two lovely daughters, Jenny and Stephanie, a wonderful stepdaughter Cathy, and her amazing husband Andrew.
After my youngest daughter was born, I was a stay-at-home mom for 14 years. During that time, I volunteered at my daughters' schools, and at my synagogue. I enjoyed my volunteer work and derived much satisfaction from helping others and gained personal growth from positions of responsibility as an officer and board member within the organizations. However, I decided to go back to work as my youngest daughter was entering high school. In contemplating what I would like to do during the next stage of my life, I realized that I could find fulfillment in being a health and wellness coach. I enjoy the aspects of helping others in their lives as well as the interpersonal relationships involved with coaching. I decided to go back to school and pursue a Master of Arts in Health and Wellness Coaching with a concentration in Integrative Health Practices from Maryland University of Integrative Health. I completed the program and earned my Masters in the summer of 2017. I am excited to bring my unique style of coaching to Rock Creek Sports Club, where I have been an active member since 2008."
Contact Abbi at alichtenstein@rockcreeksportsclub.com
What Clients are Saying About Abbi
From Erica B.
"For anyone who is looking to improve their health and wellness in any way, I highly recommend coach Abbi Lichtenstein. We did seven sessions together. By asking incisive questions and picking up on where my strengths and challenges lay, Abbi really empowered me to develop a strategy, follow through on the finer points, and stay positive throughout."
Erica B., November 2017
From L.S.
"Abbi is a delight to work with. She immediately put me at ease with her comforting demeanor. Our sessions were very helpful in getting me through some stressful periods. Without my really being aware, she equipped me with the necessary tools to address my anxiety and calm my nerves."
LS, November 2017
From Joyce P.
"Coaching with Abbi is highly recommended. I had recently encountered a number of life's speed bumps.  Unable to focus to resolve some of these issues, I tried coaching with Abbi.  I was able to get "unstuck," and was guided through self examination and analysis to look at the root of the problems.  Gradually, I was empowered to resolve these issues through taking small steps with regard to behavior changes and setting modest goals.  There is no magic to the process.  It takes work on the part of the client but I believe that critical to the process is focused guidance to resolve these issues with self prescribed solutions."
Joyce P., January 2018
From Carol-Lena
"Abbi personalizes her wellness coaching to whatever your needs or issues are, no cookie cutter solutions, astute, kind, and presents creative solutions. "

Carol-Lena A., April 2018

From C. Bannier
"If you are at a point in your life where you're ready for some change but don't know where to start, or if you feel stuck basically knowing what to do but can't seem to get yourself to actually do it, I highly recommend you consider coaching with Abbi. Abbi has a great ability to help you help yourself. Her skill in listening and reflecting is remarkable and will empower you to arrive at a clarity you didn't feel before. Abbi will make you discover and tap into motivational forces you didn't know had. It's like therapy, but better: you'll be accountable and will end up feeling proud of yourself. "

C. Bannier,  April 2018
From Stacie
"I was interested in working with a life coach but daunted by the prospect of finding a compatible coach flexible enough to work with my schedule. Abbi was the one! She gave me the jump start I needed to tackle my never-ending "to do" list, and helped with overall strategies to sort, prioritize and complete tasks that seemed insurmountable. As a result, I'm able to spend more time with my family and on activities I enjoy, and less time worrying about "the list." Thanks, Abbi, and RCSC for offering coaching expertise to help the RCSC community achieve overall wellness."

Stacie, April 2018
From Myra J.
"I found Abbi very easy to speak to. She helped me see more clearly than I had before that I actually had a great degree of satisfaction with most important aspects of my life. That was very helpful in and of itself. Through her gentle prodding and questioning, Abbi helped me identify strategies that might work for me to address the areas where I definitely wanted to change.
Once I felt that I was making progress on all 3 areas of concern to me, we scheduled a follow-up at a later date. I am happy to report that while I have not yet achieved 100% of what I set out to do, I have made very satisfactory progress. Moreover, I am continuing to work on my bad habits, and have less anxiety about them than before because I know I have made strides, and can continue to improve.
I can warmly recommend Abbi as someone who can help you find ways to effectively address the issues in your life that cause you discontent, as she has helped me."

Myra J., January 2019
From Naomi N.
"Abbi was most helpful in my quest to focus on my personal goals. She is an astute listener and provides an insightful perspective. I highly recommend her to anyone who wants to find clarity in their goals."

Naomi N., January 2019
From Anonymous
"I met with Abbi because I had bad eating habits, a combination of emotional eating and over-eating, which I had been doing for the better part of 30 years. Food was a huge mental burden for me, in figuring out what to eat and trying to eat right. Through weekly meetings with Abbi, food was no longer a mental burden and I began eating for the right reasons and overall more healthy. Abbi was patient, kind and compassionate."

Anonymous, July 2019