Meet Our Pilates Instructors
Sharon
Sharon Sellers is the Fitness and Operations Manager at Rock Creek Sports Club and has more than 20 years of experience in the fitness industry.  Personal Training has been a very rewarding experience, therefore becoming trained in Pilates Mat and Reformer was a natural next-step in her professional growth.  Pilates work is a wonderful compliment with the strength training one does in the general gym, by teaching proper alignment, joint stability, and breathing.  Sharon has obtained her Pilates training from Balanced Body.
Claudia
Certified in Pilates Studio and Rehabilitation with Polestar Education since 1999, Claudia Corwin served on the faculty of the Washington Ballet School and at George Mason and Georgetown Universities.
Claudia's Pilates training focuses on both classical and physical therapy forms which has helped clients see important improvements, especially following joint or muscle injuries--her specialty is dealing with pre- and post-surgery clients, and with those who have physical limitations. Claudia has continuing education credits with renowned Pilates educators such as Peter Fiasca, Jean Sullivan, Brent Anderson, Rael Isakowitz, Rachel Taylor Segel and Eric Franklin. Claudia is also certified in the Gyrotonic (R) Expansion method since 2002.
Madie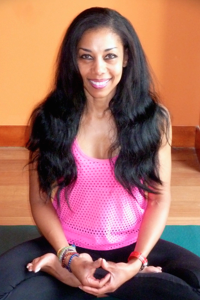 Madie Férère grew up in Côte d'Ivoire, West Africa. Her very diverse cultural heritage, travels, and work around the world makes her suited to address and connect with any audience. She teaches in French, English and Spanish.
In Bogota, Colombia, Madie trained as a Dynastretch Guru, (restoration of spinal length), and as a Pilates Instructor, in Mat and Reformer, with Eduardo Prieto, the best Teacher, Trainer and Promoter of Pilates in Latin America, and President of PILATES PRO. She also studied Mat and Standing Pilates with Maria-Clara Ramirez Roa, Physiotherapist and Balanced Body Master Pilates Teacher trained, founder of THE PHYSICAL MIND INSTITUTE. Madie is a Stott certified Pilates Teacher in Mat, Reformer, Stability Chair, Barrels and Cadillac from THE STOTT/ MERRITHEW HEADQUARTERS in Toronto, as well as a Certified Stott Specialist in Post Rehabilitation Conditioning.
Madie has also studied Naturopathy at the YOG SHAKTI ASHRAM in New Delhi with Dr. Salila Tewari, and Dr. Sunandini Sharma, and Acupressure with Dr. M.C. Varma.

"Since June, I have been taking weekly one-on-on Pilates sessions with Madie Ferere and cannot imagine my life without them.  Madie's Pilates knowledge is amazing and she pushes me hard - but in a good way.  I am always stronger, taller, and even a little bit smarter when I leave! Her diverse background is not only interesting but informative to her exercise approach.  She is warm, gracious, exacting, and always helpful.  Madie is an integral part of my commitment to improve my fitness.  Just wanted to share how happy I am with this opportunity at RCSC!" Jane A., Dec 2017
"I started seeing Madie in June because I was having back spasms regularly and neither doctors nor my PT were helping in a consistent fashion.  Madie immediately figured out why this was happening and has been strengthening me ever since.  It's been a little over 5 months and I've had less than a handful of spasms.  Not only has Madie been working with me to strengthen my core, but she's also corrected my posture, the way I stand on my feet etc to the point where I now self correct all of the time! I attribute her attention and experience in this field to my drastic improvement this year.  I so look foward to our weekly sessions and only wish I could squeeze in more!" Zain H., Dec 2017

"Pilates with Madie has been life-changing for me. Because I am Deaf, I was very concerned at first about how Madie and I would communicate and understand each other. It turns out that I didn't need to worry because Madie, through great patience, kindness, and open-mindedness, teaches me more than I could have ever imagined. Not only does she show me how to move and listen to my body well in the gym, she explains the principles of Pilates in such a way that I am inspired to and able to apply those principles in my daily life - mentally, physically, and emotionally. She is the compassionate voice I hear in my head when I am making choices about my health outside of the gym and, because of her, I am now experiencing a healthier and more fulfilling life than ever before."  Andrea S., 2019

"I've been training with Madie for nearly a year now and I've really enjoyed our sessions.  I had never tried Pilates before and was intrigued.  I had been suffering with back and hip pain along with poor posture. In a relatively short time I could see improvement with my issues.  I look forward to my bi-weekly classes as Madie is patient, knowledgeable and keeps the workouts fun with her sunny disposition and organized workouts. I highly recommend Madie's classes."  Leslie R., 2019

"Madie, is a very competent and knowledgeable instructor. She has a genuine interest in the development and well being of the person as a whole.
She know how to push to obtain the maximum, but also when and how to manage possible situation of pain and/or risk
She is always precise, on-time, professional and at the same time personable and friendly
I wholeheartedly recommend her to anyone."  Sal F., 2019




Marian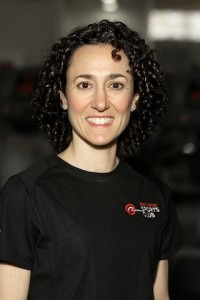 Marian Lally, the Pilates and Programming Director at Rock Creek Sports Club, has more than 20 years of experience in the industry and holds a Comprehensive Pilates Certification from Balanced Body.  She also holds a Pilates Method Alliance (PMA) certification. She is certified for group exercise and personal training through the American Council of Exercise (ACE) and is certified in Balanced Athlete levels I and II. A former dancer, Marian traded in her dance shoes for a pair of sneakers in 1992 and became a group exercise instructor, and eventually a certified personal trainer in 2000. Her Comprehensive Pilates Certification was completed in 2017, the latest part of her fitness journey.
Pilates is a natural extension of Marian's philosophy of "functional fitness," as it elongates and strengthens, improving muscle elasticity and joint mobility— invaluable for injury recovery, sports performance, good posture and optimal health. "Teaching clients how they can be active for a lifetime, even through injuries, aches and pains, illness, or life's set backs is a rewarding part of my client relationship." Marian also has a confession. She is a former sugar and bread junkie! "Making changes to a diet that reduces inflammation and cures disease has increased my quality of life. If I can refrain from processed foods and sugar, and get about 15% of my diet from animal products, anybody can."