Abbi Lichtenstein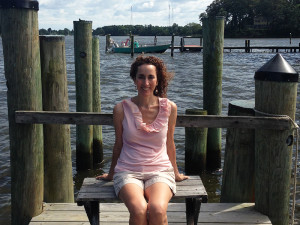 "I live in downtown Silver Spring, MD, and have lived in the Washington, DC area nearly my entire life. I graduated from the University of Maryland with a BS in Textile Science/Fashion Merchandising and later went to University College/University of Maryland and earned a second BS in Paralegal Studies. I worked for a total of 10 years in the Law Department at Marriott Corporation where I met my husband, Michael. I have two lovely daughters, Jenny and Stephanie, a wonderful stepdaughter Cathy, and her amazing husband Andrew.
After my youngest daughter was born, I was a stay-at-home mom for 14 years. During that time, I volunteered at my daughters' schools, and at my synagogue. I enjoyed my volunteer work and derived much satisfaction from helping others and gained personal growth from positions of responsibility as an officer and board member within the organizations. However, I decided to go back to work as my youngest daughter was entering high school. In contemplating what I would like to do during the next stage of my life, I realized that I could find fulfillment in being a health and wellness coach. I enjoy the aspects of helping others in their lives as well as the interpersonal relationships involved with coaching. I decided to go back to school and pursue a Master of Arts in Health and Wellness Coaching with a concentration in Integrative Health Practices from Maryland University of Integrative Health. I completed the program and earned my Masters in the summer of 2017. I am excited to bring my unique style of coaching to Rock Creek Sports Club, where I have been an active member since 2008."
Trackback from your site.